June, 2019
777 Ranch Horsemanship Camp
06/08/2019
777 Ranch, Ferron, Utah, June 8-15, 2019
This camp is specifically for young women who are nearing to graduation from a 3-4 year horsemanship program with 777 Ranch.
Jean will be hosting morning devotional time as well as participating in the horsemanship clinic during the day. She will teach evening bible study as well.
There are other youth and adult camps available throughout the year. To learn more about them go to: www.777ranch.org or call 435-749-9704. Email them at info@777ranch.org
Western Writers of America Convention
06/19/2019
Hilton Tucson East
Tucson, Arizona
307-329-8942
IWMA Texas Chapter Youth Music Camp
06/24/2019
Weatherford, Texas
Stay tuned for more information
Facebook – International Western Music Association Texas Chapter
More information on the IWMA –  www.westernmusic.org
July 27, 2019
Day of the Cowboy Celebration
Fort Worth Stockyards
Fort Worth, Texas
817-938-5527
September 7, 2019
Stage Coach Station
400 Old Comanche Road
Early, Texas
Dinner at 6 PM – $25 full brisket meal
Concert only $15 and $17 at the door
Performance 7-9 PM
Tickets on sale now until Aug. 30th
325-200-8198
www.stagecoachstationvenues.com
September 28, 2019
PCCAA Awards Show
Fort Smith, Arkansas
970-433-4387
pccaa.pro@gmail.com
bettilu123@hotmail.com
October 13-16, 2019
Three Rivers Cowboy Church Revival
4230 So. Country Club Road
Muskogee, Oklahoma
Facebook – Three Rivers Cowboy Church
October 25-27, 2019
Red Steagall Cowboy Gathering
Fort Worth Stockyards
Fort Worth, Texas
www.redsteagallcowboygathering.com
November 1-2, 2019
Western Slope Cowboy Gathering
Grand Junction, Colorado
970-242-0971
mperry@westcomuseum.org
November 13-17
International Western Music Association 2019 And Awards Show
Hotel Albuquerque, Old Town
Albuquerque, New Mexico
www.westernmusic.org
November 30, 2019
Cross My Heart Ministries Christmas Tea
Sterling, Colorado
More info later
December 1, 1019
Christmas House Concert
Hosted by Dick and Nita Gilliam
Gilliam Ranch
Peets, Colorado
December 2, 2019
Cowboy Up Ministries
Round Pen Christmas Party
Waitley Ranch
Iliff, Colorado
December 3, 2019
Generations Church
3600 W. 22nd
Greeley, Colorado
Christmas Concert
970-330-3600
www.Wearegenerations.com
December 4, 2019
Cowboy Christian Fellowship
3783 Bella Rosa Parkway
Fredrick, Colorado
303-661-0841
December 7, 2019
Holiday Homecoming with Barry Ward
Black Forest Community Center
Black Forest, Colorado
303-243-1978
December 8, 2019
Beulah Holiday Homecoming with Barry Ward
4 Bar S Gathering Headquarters
CO78 near Beulah, Colorado
303-243-1978 Victoria
719-659-9717 Pastor Jake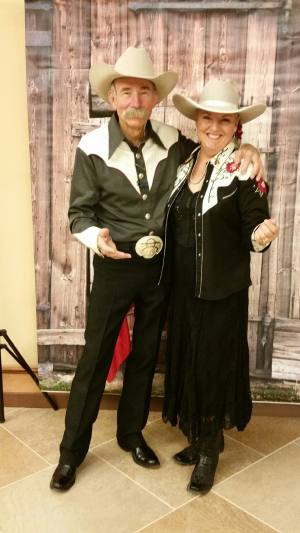 Jean Prescott with renowned cowboy poet and author Baxter Black (and having entirely too much fun!)